HELLO AND WELCOME TO THE
WINGS OF FIRE WIKI!
Books 1-5: The dragons of Pyrrhia are divided — and only the five dragonets foretold in a prophecy can unite the seven warring tribes and bring peace and understanding among them. The books by Tui T. Sutherland tell their story — come along for the fight and feel free to contribute to the wiki!
Books 6-10: The dragons of Pyrrhia are at peace after the war, but a new prophecy has arisen, and the dragons who are trying to fulfill it are the Jade Winglet: Moonwatcher, Winter, Qibli, Kinkajou, Peril and Turtle. They must keep a wary eye out for dragons like Darkstalker and Onyx. The winglet of dragonets must fulfill their prophecy- to find the "Lost City of Night", in order to stop "thunder and ice" from destroying Jade Mountain!
Feel free to contribute to the wiki!
Confused? Start here!
We currently have 387 active contributors and a total of 908,811 edits!
Find out who has what user rights!
Only July 25 2017 00:00:00 until Darkness of Dragons comes out!
Only January 2 2018 00:00:00 until The Dragonet Prophecy (Graphic Novel) comes out!
Click the Dragonets' faces to visit their pages!
Poll
Should there be a Wings of Fire movie? Also, if you want to make a poll, don't change the already existing polls-make a new page, then copy and paste the code, and then change it a bit to make it your own. After that, rename the poll into a template if you know how to. Finally, add it onto the main page.
Fanart/Fanfiction
Just a small note on this:
We do welcome FANART of the characters in the CANON series (i.e. Clay, Peril, Tsunami, etc). It helps us get better pictures for all of the articles, better than the standard picture that usually shows up for the character's tribe.
If you upload fanart that is NOT YOUR OWN, please be sure to CREDIT THE CREATOR for their work.
FANFICTION and fanart of NON-CANON characters belong on the WOF fanon wiki, please. Thanks!!!
Companion7 (talk) 14:35, April 11, 2013 (UTC)
Featured Article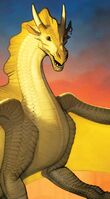 Qibli is a male SandWing in the Outclaws and Jade Winglet. He's wiry, cunning, sarcastic, with sand-colored scales. He's Thorn's adopted son, and always has a plan.
Read More...



Sister wikis
Create your own characters and use them in either roleplay or fanfiction, or even both!
This is where we test coding and features before they are applied here.
Admins' Corner
Hey Everyone! This is where the admins of the wiki talk about random stuffs to do with the wiki! Old posts are archived over here.
June 13, 2017
Another round of upgrades, with a spiffy new look. Read more about the changes and give feedback here - Matau
January 8, 2017
Darkstalker still needs a plot summary. --
January 1, 2017
Big upgrades across the wiki--high energy! Happy New Year everyone! --♏ÂƚÂЦ❾❾
Latest Activity
Children's Literature
Go to these sites for info or for help with your own wiki!
Alice's Adventures in Wonderland • Amulet • Anne of Green Gables • The Chronicles of Narnia • Dear America • Goosebumps • Guardians of Ga'Hoole • Harry Potter • How to Train Your Dragon • Little House on the Prairie • Miss Peregrine's Home for Peculiar Children • Oz • The Polar Express • The Railway Series • Septimus Heap/ToddHunter Moon • Tracy Beaker • The Underland Chronicles • The Unwanteds Series • Wings of Fire
Want your community included? See how!

Ad blocker interference detected!
Wikia is a free-to-use site that makes money from advertising. We have a modified experience for viewers using ad blockers

Wikia is not accessible if you've made further modifications. Remove the custom ad blocker rule(s) and the page will load as expected.